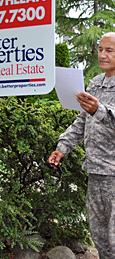 You have Orders and now are preparing your home to sell.  You know what you paid for your house, but you've made improvements over the last few years.  You want the most money possible for you home, but also you know the deadline to move is quickly approaching.
How you price your home will determine if or how many buyers will come to your home and hopefully place an offer. If the price is too low, you might give the impression that there is something wrong with your house or that you are desperate, and you will receive lowball offers. If the price is too high, folks are simply not showing up to view your house.
Provided that you have decluttered your home (sell all your unwanted stuff on SargesList free to post!), repaired any flaws, and maybe added a fresh coat of paint, it's time to find out how to price your home.
How to determine a price point on your own
To start, you should find out about homes that sold in the past 3 months in your area. There are several websites out there that will help you with this task. Some examples:
Zillow.com +/- 15%
The website of your local county assessor, find lots of information there.
NOTE: Look at similar home square footage, number of bedrooms and bathrooms, acreage.
You will also have to look at your competitors, meaning houses that are currently for sale. In a way you'll want to know the same information, but you will also look at special features each home offers. It will help if you go and visit the "Open Houses" in your neighborhood.  Buyers will comparison-shop and you will need to know what the other houses on the market offer.
Other ways to get a dollar value on your home:
You can have a desk appraisal done by a professional appraiser. This means that the appraiser will not visit your home, but rather will pull comparables from closed sales. This is basically the same process as described above, but this time it is done by a professional and will cost you about $60. It could be an advantage being able to show the buyers a piece of paper that shows the value. Not sure how much of an impact this really has on buyers in a buyer's market.
Have a formal appraisal completed by a licensed appraiser. The appraiser will come to your home, measure it, inspect it, take pictures and assign an actual market value. The cost of this option is about $300. Don't be surprised if you see that the buyers' lender will order an another appraisal that maybe you have to pay for (depending on what your purchase agreement says)
Ask a trusted real estate agent to do a free CMA (Comparative Market Analysis) for you. To be fair tell the real estate agent that you are planning on selling the home by owner, he/she then will make the decision whether to do this for you or not. Chances are that real estate agents will do it, because they want the listing eventually.
Once you have calculated your averages, price your home within $5,000 or slightly below. It is very important that you do not overprice! A lot of homeowners offering their house not through a real estate agent make this mistake. The owner'Äôs heart is attached to the home and transferred into the sales price! There are only a few 'Äòfast'Äô markets in the country, where houses sell within 30-45 days of listing. Most of us live in a slower buyer's market, so do expect an average of 90-360 days of listing. If you are in a hurry, you either have to drop the price, give the house to a real estate agent (and then still drop the price) or consider renting it (AHRN.com, free to rent). IF you can't afford to rent, see bottom of this post to what Obama is doing to get servicemembers relief for their underwater homes (can you say RE-FI!).
Don't take low offers personally. Maybe you will receive a low offer from a professional real estate investor. This is not necessarily a bad thing, depending on how 'the deal' is structured and the financial situation you are in, this might be an option. (Do your homework though! Real Estate investors are NOT into charity!) If you are not in a hurry to sell and you have a little bit of equity (difference of what you owe on the house and what your house sells for) in your home, you might want to hold out for a regular home buyer. Again, don't be offended when a low bid comes in. Think about the fact that everywhere on TV, buyers are being told that they can get a house for nothing.
NOTE: Take your emotions out of the price and the house selling process. Even though, some features of your house are very near and dear to you, they just might not work for someone else.
Finally: Put yourself into the buyer's shoes
Since we are in a buyer's market, buyers will not overpay for anything!
Buyers looking for homes that are for sale by owner are looking for a deal. Since they have been shopping they are very much aware of what other properties are out there
Buyers know that you are saving your real estate commission and hope that sellers will discount their price by a large part of this commission – also a big mistake By Owner Sellers make and immediately turn off any possible buyers.
Buyers are very much aware of how the market changes; therefore you'll need to be knowledgeable about fluctuations as well. They might subscribe to services like Trulia.com that will inform them when the price of their favorite homes change. Of course, as a home seller you can do the same with houses in your area.
Be aware of new listings and new sales. All these factors might have an impact on your price.
In other words just keep an eye on the market, don't overprice and keep your personal feelings out of price calculations.
Market, Market, Market
Advertise and market your home online and offline. Make sure you post your home for sale on all military housing websites (AHRN.com is free, SargesList.com is free and there are others that are not free). Also, take your flyer into the local housing office and ask if they can help. Post on all Facebook apges
SargesList has FREE advertising for homes for sale.  Take pictures of all your spaces, or better yet, post a YouTube Video tour of your home for Free also!  Whether putting together an Open House, or just advertising your home, you'll get worldwide views on SargesList. Use SargesLovesTroops promo code at SargesList checkout and get a free UPGRADE so your home for sale listing is seen prominently on the site.
3/6/12 – Relief for military homeowners, finally!
President Obama Announces New Steps to Provide Housing Relief to Veterans and Servicemembers and Help More Responsible Homeowners Refinance